WordPress Management Services
Malware. Maintenance. Migration. Optimization. Security.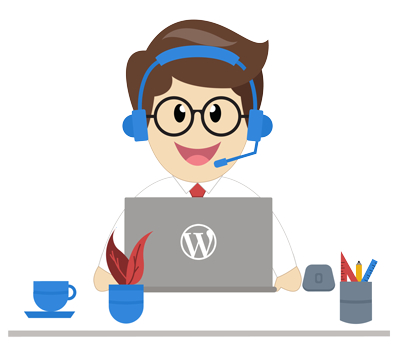 WordPress Support Services
WordPress Brains is always here at instant support before it gets any worse for your system!
Emergency Service
Something is weird with your website and don't know what? Our emergency services are one click away.
Malware Removal Service
Malware attack on your website! We got your back.
Speed Optimization
We can reduce the website loading time for smooth loading even on lite devices.
Migration Service
Update your website with a better host and features to attract more business.
Security Service
Doubtful about security and don't want to take risks with your website? WordPress Brain security service assures guaranteed protection.
Custom Development
Needed customized changes for your website in a secure way? WordPress Brain is expertise in providing the best to clients.
How We Work
Your website is just 3 steps away from security and excellence.
1. Contact
Contact WordPress Brain for any issue with your website either you have a simple WordPress website or an E-commerce store with a catalogue of products. It offers website care and security plans for both.
2. Review
We will be asking for your hosting login information and WordPress admin dashboard login. We will use this information to connect your site with our maintenance account to review the backend of the website for fixing. Of course, none of this information will be shared or sold to other services or businesses.
3. Fix
After reviewing the threats, fixing will be our headache for you to enjoy a hassle- free experience on your website. Focus on your business and don't bother yourself with minutiae regarding your website. This is a realm of its own and we rule over it with high expertise and confidence.
Products We Experienced With
Tools are our assets and we can proudly showcase our assets
Why Choose Us
Owning a website, business means having a baby. For the first few years, you need to nurture them with all your attention, care and support. For this, you might need an extra hand or experts sometimes to overcome certain situations. We can give you several reasons but listing only 6 would seem like a whole new world.
A Dedicated Team of Experts
Experts with dedication brings the correct passion to work like website security service. WordPress Brain brings dedicated services to you in a click with threat alerts, weekly updates, backups and much more! With WordPress Brain, your website will be always kept up to date and secure. This helps you focus on your business instead of worrying about your website.
On-demand website support
Most websites are based on open sources like WordPress or Drupal. With all the benefits of open source, there is a downside too. WordPress and other systems are continuously updated and new security patches get released weekly. On the other hand, hackers are trying to exploit vulnerabilities of outdated software. WordPress Brain is always ready for every uninvited guest.
Save time and website
If you are emailing your developer or agency a couple of times per week, chances are the fees you are paying are adding up quite fast. However, with a website management service plan, you will get the services at discounted rates. With bonus services like threats alerts, updates plugins, on- demand assistance, and much more! WordPress Brain is helping you save a fortune of a lifetime.
100% money back guarantee!
With multiple datacenter locations, redundant cooling, emergency generators, and constant monitoring, we are able to offer our 100% Uptime Guarantee.
Secure Brand reputation
Imagine your website becomes very slow, broken or even hacked. How your customers will see your brand? Most likely as a weak, unstable, untrustworthy brand. That will result in customers turnover and reputation loss. Even 1-minute downtime can result in the loss of thousands of dollars. And what if this leads to server down for hours?
Award-Winning Service
This reason has the highest importance of website maintenance of all the above. If you care about your brand, you should consider website maintenance services. With WordPress Brain plans, we offer 24/7 website uptime, security and performance monitoring to avoid such issues.
CLIENTS TESTIMONIAL
Over 1200+ Satisfied Clients and Growing.
Read More Reviews
Vijay Kapadia
CEO, Techmantra
It's great to see the effort put in to clean up the code and create a safe plugin for discovering issues on my WordPress sites. Malware detection and protection are excellent. The signatures are updated in a timely manner. Unlike some other scanning databases, the scanning database covers alternatives that may have issues rather than just posts/pages. This is a really simple programme to become acclimated to right out of the box. It notices things that the others don't.
Charlotte
SEO Expert, Ws Cubetech
Thank you once again for your incredibly prompt service. From the time I paid for the malware removal service to you guys doing the job, I don't think it took more than an hour. I'm glad I came upon your service.
Get Full Support Now
Any website, any problem, anytime, anywhere...
Click Here to Start Support Session Now
Other ways to get tech support
Chat With Us
Our Latest Blogs
These features come standard in all of our hosting plans. Dynamically extend imperatives through open-source quickly niche markets.
You may have seen the option that allows you to...
Read More
Frequently Asked Questions
Find out how we can help you and more about the services we offer
What is WordPress maintenance service?
This can include core WordPress updates, plugin updates, theme updates, website backups, security, uptime monitoring and more. This can help you with website downtime, plugin/theme errors, and theme modifications, and also provide WordPress advice and help with troubleshooting problems
Do you offer custom development services?
Yes, as businesses grow, their needs become more complex and require more advanced tools. Custom software development allows you to ensure that your software scales to accommodate your business' growth over time. This allows your business to grow faster without being restricted by inadequate software.
What is your response time?
So, the key to getting faster at your favourite game is reaction time (RT). This is the length of time between a stimulus and your response to that stimulus. RT is controlled by your central nervous system (CNS)
My website is hacked! Can you help?
Suffering a hack can be one of the more frustrating experiences you'll have on your online journey. However, taking a pragmatic approach can help you maintain your website and sanity.
Can I change site care plans?
Plans are like guides, shows you the road- map of our steps towards your site protection from malware. However, if you want to custom your plan maybe add some services, we can gladly provide changes.
What's included in "site edits"? What's not included?
WordPress Brain technicians will access your PC remotely; no interaction or knowledge is required from you.
Our antivirus software does a full system scan to remove viruses, Trojans, spyware, rootkits and more. Your PC gets a complete security check, helping ensure that all threats have been removed.
The pop-up blocker configuration prevents you from seeing unwanted ads and from getting infected by accidentally clicking on threats disguised as advertisements.
WordPress brain keeps your PC protected after technicians have done their work.
Didn't Find Your Answer?.. Chat With An Expert Now!